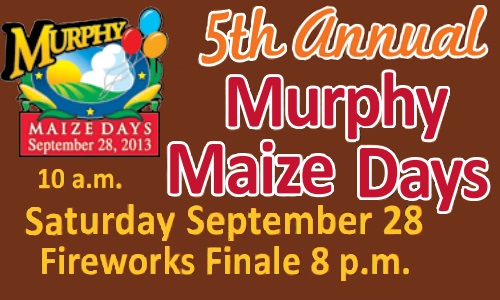 Murphy Maize Days
---
Join The Range in Murphy THIS SATURDAY for Murphy Maize Days!  The fun starts at 10am, and ends at 8pm with a fireworks show!  There will be live music, a classic car show, pet adoptions, vendor booths, a karaoke contest, and more…and it's all FREE!  The music lineup is as follows:
The Bigsbys: 10-11am
Big Gus and the Swampadelic: 11:30-12:30
Prophets and Outlaws: 12:45-1:45
Matt Caldwell: 2:00-3:30
Two Tons of Steel: 4-5:30
Zane Williams: 6-8pm
Allan Peck will be broadcasting live from 11am to 1pm, so come out and say hi!
The festival is located at 206 N Murphy Rd, Murphy TX 75094.
---
KHYI 95.3 Big Gus and the Swampadelic, festival, fireworks, free, live music, Matt Caldwell, Murphy, Murphy Maize Days, Prophets and Outlaws, the Bigsbys, two tons of steel, Zane Williams