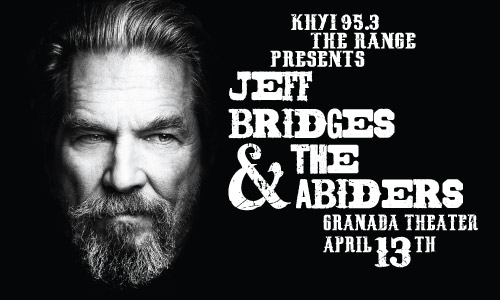 Jeff Bridges & The Abiders at The Granada!
27 March 2014 KHYI
---
Jeff Bridges & The Abiders are coming to The Granada!
"There are numerous echoes of Crazy Heart to be found on Jeff Bridges. In addition to Burnett's participation, songwriters Stephen Bruton, John Goodwin, and Greg Brown contributed to both projects, and Ryan Bingham (who won an Oscar, a Golden Globe, and a Grammy Award for co-writing the film's "The Weary Kind") adds vocals to the opening track, "What a Little Bit of Love Can Do." Bo Ramsay's "Either Way" had been considered for the movie, and "Slow Boat," co-written by Bridges and Burnett, is actually the title of a Bad Blake song that's mentioned in Thomas Cobb's original Crazy Heart novel.
But Bridges' involvement in music goes back a lot longer, and far deeper, than just this one film. "I've been into music ever since I was a kid," he says. "My mother forced me to take piano lessons, maybe when I was around 8—I got as far as 'Fur Elise' and I bailed, and I've regretted it ever since." But then he discovered his brother Beau's Danelectro guitar, and starting in high school, joined up with his grade-school buddy Goodwin and a group of other friends for a Wednesday night jam session—which they continued, every week, for the next fifteen years."
You won't want to miss this show! Get your tickets here!
---