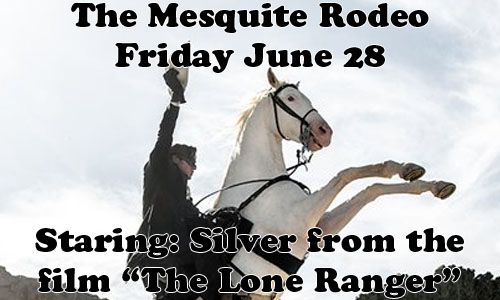 High ho, Silver! Away to Mesquite ProRodeo!
26 June 2013 KHYI
---
Arrive early to Mesquite ProRodeo on Friday, June 28 from 6:30PM-7:30PM to meet SILVER, the equine superstar from Walt Disney Picture's THE LONE RANGER. Silver is making limited public appearances while in town, promoting the July 3rd release of the new movie, also starring Armie Hammer and Johnny Depp.
On Friday, June 28, in addition to meeting Silver, the rodeo will be celebrating all things LONE RANGER including giving away movie screening passes to the first 100 patrons. Kids will also receive LONE RANGER masks and bandanas. Be sure to bring your cameras, moms!
For more information, and to purchase rodeo tickets, visit www.MesquiteRodeo.com and follow the Mesquite ProRodeo on Facebook for more LONE RANGER news
---
KHYI 95.3 Mesquite Rodeo, Silver, The Lone Ranger